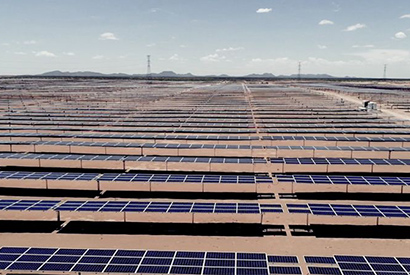 November 24, 2021
Gonvarri moves forward in fulfilling its 2050 Carbon Neutral Plan
---
• The company's electricity consumption in 2022 in Spain will be of 100% renewable origin thanks to a long-term power purchase agreement (PPA).
• Gonvarri's Carbon Neutral Plan sets the objective of reaching Net Zero emissions in 2050, in line with the recommendations to limit the increase in temperatures to below 1.5ºC. This plan sets an ambitious intermediate target for 2030 with a 50% reduction in direct emissions and a 100% reduction in those associated with electricity consumption.
• In the next decade, investments in low-carbon technologies will be key to the decarbonization of the sector.
In Gonvarri's steel and aluminum transformation processes, electricity consumption, together with its associated carbon emissions, have a significant impact on the company's overall calculation. The entry into force, in January 2022, of the agreement for the supply of electricity from renewable sources at a fixed price will allow a substantial reduction in the emissions associated with this process, while at the same time, at a time of escalating prices in the electricity market, the price of this important supply will be stable and predictable.
Madrid, November 24, 2021. Gonvarri, a leader in metal solutions for the automotive, energy, storage systems and road safety sectors, has decided to accelerate its decarbonization plans for all its industrial activity at a global level with the adoption of an ambitious Carbon Neutral Plan whose objective is to achieve net zero emissions no later than 2050, in line with scientific recommendations to limit the increase in temperatures to below 1.5ºC.
To this end, the company has set a target of a 50% reduction in its direct emissions by 2030 and a 100% reduction in its emissions associated with electricity consumption, compared to pre-pandemic emission levels. The lines defined by the company to advance towards meeting these targets are fuel substitution, energy saving measures, sustainable mobility based on electrification, development of renewable hydrogen, installation of solar plants dedicated to self-consumption, negotiation of renewable PPAs and the development of solutions based on nature, such as reforestation.
These emission reduction objectives are a continuation of the path taken by Gonvarri more than 5 years ago, when it began the project to implement an advanced system for monitoring energy consumption in processes, with the aim of identifying and reducing their energy impact. This project, called "Eco-Energy" by Gonvarri, has to date achieved savings in consumption of more than 16GWh/year and a reduction of around 20% in the direct emission of greenhouse gases.
Likewise, Gonvarri's commitment to renewable energies is not new, in 2009 it installed the first photovoltaic installations in its production centers. At present, 3 new plants are in the execution phase, which will allow us to have more than 6 MW installed in a total of 8 plants by 2022.
In 2022, the follow-up of the Carbon Neutral Plan will have an innovative monitoring system that will allow monthly tracking of the company's emissions and the degree of progress of the reduction measures implemented.
The entry into force in January 2022 of the renewable electricity supply contract for 100% of the electricity consumed in Spain represents an important step forward in the commitments assumed by Gonvarri for 2030. This agreement represents an approximate reduction of 50% of the emissions associated with the company's global electricity consumption, and also, due to its fixed price characteristics, it represents a hedge against the electricity market risk, which is so relevant at this time.
"This decision is based on the vision of sustainability as a lever for the creation of long-term value in the company, as well as the firm commitment we have with future generations so as not to compromise their future needs", says the CEO of Gonvarri Industries, Josu Calvo. The new strategy responds to the mandate of the Board of Directors, which recently approved a new sustainability policy reinforcing its commitments to energy transition and the fight against climate change (SDGs 12 and 13).
"At Gonvarri we have been walking with this vision for some time now," Calvo assures. "The result of this is the company's firm commitment to the projects included in the Carbon Neutral Plan, as well as our commitment to our main stakeholders, including our suppliers and customers, which is leading us to work not only on our own processes but also on their life cycle, applying a holistic vision to all the products we manufacture," he added.
Gonvarri also understands that the energy transition will be a unique opportunity for the economic relaunch of the steel and aluminum transformation sector after COVID, also advancing in the modernization of the sector with new, more circular, digital and decarbonized processes.
About Gonvarri Industries
Gonvarri Industries has 45 factories, 20 distribution centers and offices in 19 countries, from which supplies metal solutions for four business lines: Service Centers, Material Handling, Precision Tubes and Metal Structures. Gonvarri's human team is made up of more than 6,000 employees.