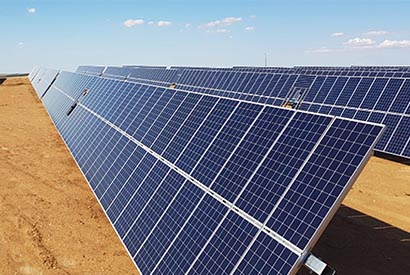 September 9, 2019
Solar Steel supplies 700MW of its TracSmarT+® tracker in Spain during the first 8 months of the year
---
Madrid, September 9th 2019. Solar Steel, division of Gonvarri Industries has supplied 700MW of its single axis tracker TracSmart+® for PV Projects in Spain during the first 8 months of 2019.
Castilla La Mancha, Extremadura, Castilla y León, Andalucía and Murcia are the regions where Solar Steel has been delivering the TracSmart+® solar tracker.
The projects being delivered are those from the latest Spanish renewable energy auction as well as some private PPA contracts.
Furthermore, additional PV projects will receive the TracSmart+® tracker during Q3 and Q4 2019.
Solar Steel brings to the PV market its experience, a well-proven and reliable product as well as financial strength to make PV projects real. Moreover, Solar Steel provides to its customers the necessary know-how for the development of new projects in a variety of environments. The above figures position Solar Steel among the largest solar tracker providers in the Spanish market and at a global scale.
About Solar Steel
Solar Steel is a brand of Gonvarri Industries with a trackrecord of more than 9 GW. Gonvarri is a leading company in steel service centers and the manufacturing of structures for renewable energy. Gonvarri Industries has more than 43 industrial plants worldwide, with over 4,800 employees and a revenue of more than 3,575 million euros in 2018. Solar Steel has focused its efforts on providing customers with integral solutions according to their product and service requirements. For more information, visit www.gsolarsteel.com