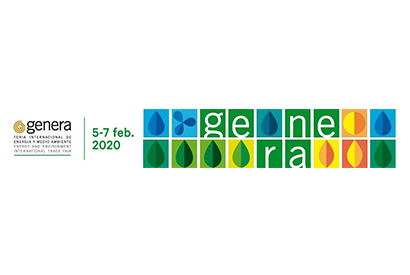 February 3, 2020
Suports participates in the XXIII Edition of Genera, Energy and Environment International Trade Fair, from the 5th to the 7th of February, 2020 at IFEMA Madrid
---
Valencia, February 3rd, 2020. Suports, division of Gonvarri Industries, invites you to visit them at stand 10E03 of Genera, Energy and Environment International Trade Fair from the 5th to the 7th of February, 2020 at IFEMA Madrid. 
This edition brings forward its dates of celebration to enhance the representation and professional call at a key moment for the expansion of renewable energies in our country, and take advantage of the growth experienced during the last edition, which closed its doors with a very positive balance of results.
On behalf of the Suports team, one more year we invite you to visit our stand 10E03, located next to the access of Hall 10, where we will assist and inform you of all our products, systems and news. If you need invitations, do not hesitate to contact us.
Suports distinguishes itself by designing, manufacturing and supplying mounting systems for photovoltaic projects. Its more than 13 years of background, combined with the engineering capability and organizational strength, positions Suports as a solar industry leader.
About Suports
Suports is a brand within Solar Steel, solar division of Gonvarri Industries, with more than 400 MW track record. Gonvarri Industries is a leading company in steel service centers and the manufacturing of structures for renewable energy with over 4,800 employees, a revenue of more than 3,575 million euros in 2018 and 43 industrial plants throughout 19 countries. For many years, Suports has focused its efforts on providing customers with bespoke solar metal structures. For more information, visit: https://www.suports.es/en/