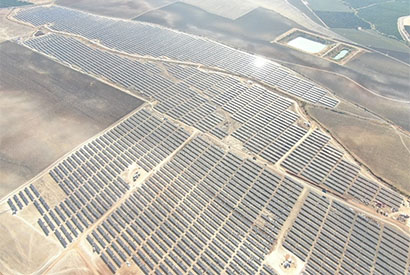 July 22, 2020
Solar Steel has supplied 62 MW of its FV tracker TracSmarT+® to Solarpack for a project located in Seville, Spain
---
Madrid, July 22 2020. Solar Steel, a division of industrial giant Gonvarri Industries has supplied 1.926 single axis trackers TracSmart+® to a 62MWp PV project developed and built by Solarpack in Seville, Spain.
The plant is part of the 112 MW that Solarpack has built for its own power generation business unit in Spain, for which the company was awarded with rights for 100 MW in the 2017 Spanish Tender.
The solar facility is set to occupy more than 150 hectares and will generate enough electricity to supply about 35,000 households.
Along with this Project and during 2019, Solar Steel has supplied over 725 MWp of its single axis tracker TracSmart+® to 27 FV projects in Spain, positioning itself as the largest tracker provider in the country. "It's been a pleasure to work with Solarpack in the supply of this plant and contribute to the development of renewable energy in Spain", said Fernando Castro, Solar Steel's CEO.
About Gonvarri Solar Steel
Gonvarri Solar Steel has a trackrecord of more than 13 GW and is part of Gonvarri Industries. Gonvarri is a leading company in steel service centers and the manufacturing of structures for renewable energy. Gonvarri Industries has more than 45 industrial plants worldwide, with over 6,000 employees and a revenue of more than 3,700 million euros in 2019. Solar Steel has focused its efforts on providing customers with integral solutions according to their product and service requirements. For more information, visit www.gsolarsteel.com.
About Solarpack
Solarpack is a multinational company specializing in the development, construction and operation of large-scale solar PV plants in fast-growing markets across Europe, North America, Latin America, Asia and Africa. Since its inception in 2005, the company has developed 876 MW of solar PV projects, acting as a turnkey engineering, procurement and construction contractor for 509 MW. The company currently generates energy from 15 projects, totaling 545 MW, in Spain, Peru, Chile and India. Solarpack also operates and maintains 19 plants, totaling 499 MW, and provides asset management services for a total of 483 MW of owned and third-party projects. Headquartered in Getxo, Spain, Solarpack has a diverse geographical footprint and employs over 240 people in 10 countries. For more information, visit: www.solarpack.es