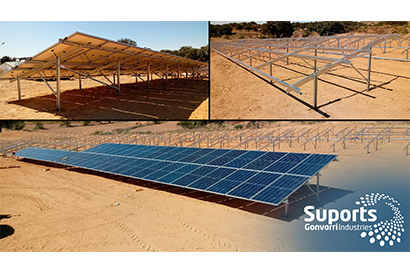 January 23, 2020
Suports supplies structure for a ground fixed tilt project in the province of Huesca (Spain)
---
Valencia, January 23th, 2020. Suports, division of Gonvarri Industries, just supplied a new project of its fixed tilt structures for a PV facility located in the province of Huesca (Spain) to their clients RÍOS RENOVABLES.
The project consists of a fixed solar structure with a module configuration of 2 heights in portrait and a tilt of 15º. The chosen solution for its execution were bipost fixed tables, rammed into the ground and built with hot-dip galvanized steel structure and stainless-steel screws.
Suports hot-dip galvanized steel ground structures are suitable for projects of this size and features, since they are fast mounting solutions, highly durable, reliable and with great mechanical resistance, in addition to an almost zero maintenance cost.
The project was successfully completed and 792 photovoltaic modules were installed on the structures supplied by Suports, offering a peak power of 231kW and providing clean energy to the community of irrigators in the area.
Suports distinguishes itself by designing, manufacturing and supplying mounting systems for photovoltaic projects. Its more than 13 years of background, combined with the engineering capability and organizational strength, positions Suports as a solar industry leader.
Ríos Renovables Group is a business group of Navarran origin, consolidated on the renewable energies market. This year marks their 30th anniversary managing and developing activities focused mainly on photovoltaic energy and energy efficiency (http://www.riosrenovables.com/en/home).
About Suports
Suports is a brand within Solar Steel, solar division of Gonvarri Industries, with more than 350 MW track record. Gonvarri Industries is a leading company in steel service centers and the manufacturing of structures for renewable energy with over 6,000 employees, a revenue of more than 3,575 million euros in 2018 and 45 industrial plants throughout 19 countries. For many years, Suports has focused its efforts on providing customers with bespoke solar metal structures. For more information, visit: https://www.suports.es/en/