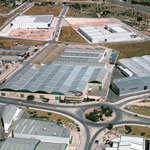 April 12, 2018
Gonvarri acquires Flinsa
---
Madrid, April 12, 2018.- Gonvarri Steel Services (Gonvarri) has closed the acquisition of Flinsa, a family business dedicated to the manufacturing of carbon steel strips and tubes and stainless steel tubes.
Flinsa, founded in 1975, is based in Ibi (Alicante) and has a facility of 38,000 m2 and 120 employees. Flinsa mainly operates in the sector of automotive tubes, but also is present in other sectors that require high quality standards. Flinsa exports approximately 30% of its production.
As stated by Josu Calvo, CEO of Gonvarri Steel Services, "Flinsa's integration constitutes a significant step forward in our strategy within the automotive sector in general terms and particularly with regard to the penetration in the automotive tube field, reinforcing and complementing our current product portfolio".
About Gonvarri
Gonvarri Steel Services has 41 factories in the steel processing sector for automotive, road safety, material handling and solar energy in 17 countries and reached 3,000 million euros income in 2017.