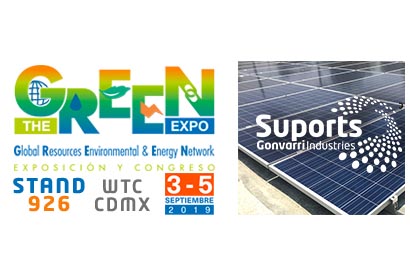 August 28, 2019
Suports participates in the new edition of Green Expo trade fair from 3th to 5th of September in Mexico
---
Valencia, 28th August 2019. Suports, division of Gonvarri Industries, invites you, to visit them at their stand 926 of the new edition of Green Expo to be held next week at the World Trade Center in Mexico City, from 3th to 5th of September.
This year the event coincides with the I Edition of Intersolar Mexico so it is expected great influx of visitors.
Suports distinguishes itself by designing, manufacturing and supplying mounting systems for photovoltaic projects. Its more than 13 years of background, combined with the engineering capability and organizational strength, positions Suports as a solar industry leader.
About Suports
Suports is a brand within Solar Steel, solar division of Gonvarri Industries, with more than 350 MW track record. Gonvarri is a leading company in steel service centers and the manufacturing of structures for renewable energy. Gonvarri has more than 43 industrial plants worldwide, with over 9,000 employees and a revenue of more than 3,575 million euros in 2018. For many years, Suports has focused its efforts on providing customers with bespoke solar metal structures. For more information, visit www.suports.es